Car Survival Kit
$39.95
A realistic and practical solution to real-world disasters.
This Car Survival Kit is professionally designed by Captain Wayne Bennett (Ret.).  Car accidents and gridlock are expected to occur in a major earthquake, don't get caught unprepared, the first aid supplies in the car survival kit will enable you to treat car-related injuries. It also includes flashlight, lightstick and food and water supply good for 3 days with a shelf life of 5 years even under extreme heat.
1 Car Survival Kit is recommended for each your car. Can be stored in your trunk. 
We also recommend that you get a Car Window Hammer with Seatbelt cutter to put in the driver's seat.
Find out all the recommended supplies for your family and download your free report for a realistic and practical preparedness guide. Click Here.
Description
Since we take our cars everywhere, everyone should carry an Emergency Car Survival Kit in their auto. These emergency preparedness supplies should include Food, Water, Warmth, Light and of course car first aid kit supplies. The Emergency Car Survival Kit provides the essential items to keep you alive and help others in a true emergency. Prepare for Earthquakes, Hurricanes, or simply breaking down on the road. The Emergency Car Survival Kit is the all around disaster kit for the auto. Earthquakes to tornadoes, you are prepared for survival with a 3 day supply of a non-thirst provoking emergency food rations for one person, 36 ounces of 5-year sterile emergency drinking water, dynamo hand squeeze LED flashlight, 5-year light stick that glows for 12 hours, thermal survival blanket and first aid supplies.
What makes our emergency car first aid kit different?
Our competition stocks a 37 item first aid kit in their car kit, that includes 20 band-aids, 2-2×2 pc. of gauze, 2- alcohol wipes, 1- butterfly bandage and 10 cotton swabs.. This is not going to help you in a real emergency.   As a retired professional firefighter and first aid instructor, I believe in providing the first aid supplies to get the job done in a real emergency. This is not your typical first aid items because this is not your typical Car Kit. From the trauma dressings to EMT shears, you have the foundation of preparedness. Feel free to add a CPR face shield, Burn Gel Dressing, Splint, etc. All you have to do is just compare.
A great addition to car preparedness and one our biggest sellers is our Emergency Window Hammer. Don't become the victim, survive any accident with a quick escape.
Emergency Car Survival Kit Contents: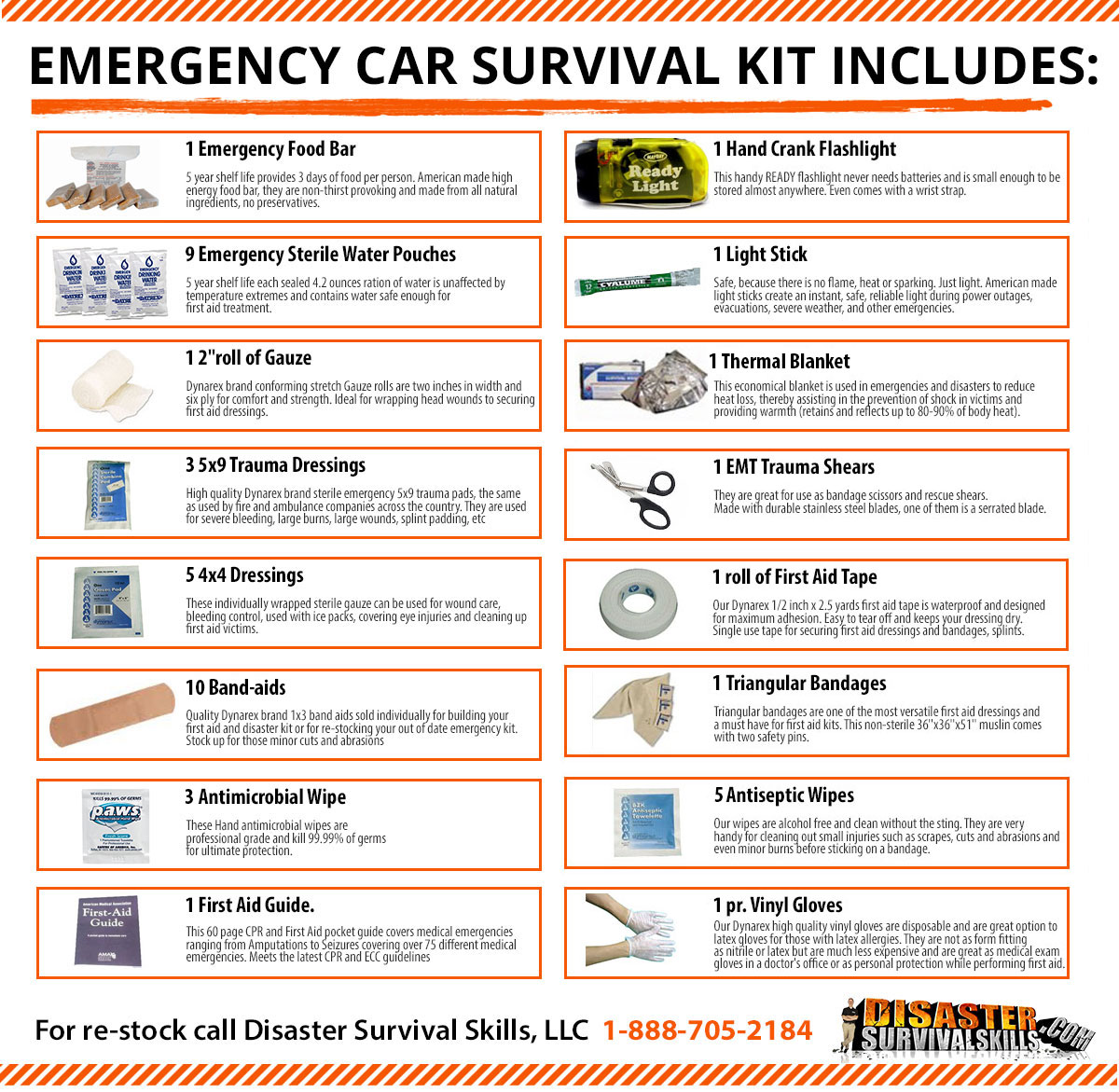 Car Kit Key Features
U.S. Coast Guard Food & Water
Affordable
Custom and Compact 6×12 inch bag
5 year shelf life
Superior first aid supplies
Additional information