Thanks for your interest in Disaster Survival Skills, LLC. We will be adding extra features over the next few months, so come back regularly. You can contact us at: wayne@www.disastersurvivalskills.com or by phone at 1-888-705-2184.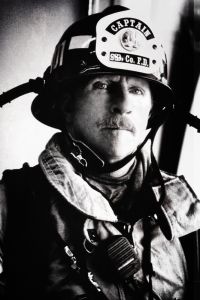 I am Captain Wayne Bennett, a retired firefighter with over 33 years of experience in the emergency business. After years of responding to emergencies, there was one comment that always pained me to hear, "We just didn't know what to do."
I NEVER want you to have to speak those words. I have seen too many emergency scenes where family and friends just stood by their children, brothers and sisters and even their parents feeling completely helpless. In those precious minutes while waiting for the firefighter/paramedics and ambulance to arrive everything can change for the victim. You just need to know what to do!
So I have spent over two decades training and preparing folks just like you, what to do in an emergency or disaster. I believe if you have the right training and supplies, you can be your family's biggest hero. So with that in mind, I have created a Life Saving Video series to teach you exactly what to do in an emergency or disaster.
Free Life-Saving Skills Training
These video skills can make all the difference in your victim's survival. Just simply click Sign-Up Now! to have your free online "Life Saving Skills" videos automatically sent to your inbox.
To support the training we carry some of the best supplies in the business. We pack our own kits so they are more than just fluff. Unlike our competition we use real trauma dressings, paramedic scissors, burn dressings, sterile water and more. When a company says they pack 126 items into their first aid kits, make sure it isn't just band-aids and wipes.
My experience began with 6 years as a firefighter/crash rescueman with the Air National Guard. And 27 years as a professional fire captain with a Southern California Fire Department where I responded to over 50,000 emergencies.
I am also an American Heart Association instructor and National Safety Council first Aid training center since 1992, as well as a FEMA CERT (community emergency response training) instructor.
My other training includes National Fire Academy Incident Command Training, State Certified Fire Officer, California Specialized Training Institute for Earthquake Management, Terrorism Response, Urban Search & Rescue, Wildland Fire Training, Avalanche Rescue, High Angle Rope Rescue, Swift Water Rescue and Hazardous Materials Training.
We have trained over 120,000 persons how to survive in our workshops. My hope is that with our free on-line video series "Life-Saving Skills," and your help, We can expand that reach and help everyone learn to save lives. For even more free training visit and subscribe to our YouTube channel Disaster Survival Skills TV.
Wayne has also written the original "Disaster Response Guidebook" for Schools. He is currently working on "Disaster Survival Skills" the book.