Office Disaster Survival Kit (10 Person)
$199.95
A realistic and practical solution for earthquakes and mass-casualty disasters.  
This Office Survival Kit is designed for the survival of your office staff in any emergency including a major earthquake. There is a pry bar, utility shut off tool, lights, radio, and hygiene supplies. The first aid that we've included in this kit are real life-saving supplies, these will enable you to treat minor to severe injuries. You can safely perform CPR, control Severe Bleeding, treat Shock, treat serious Burns, stabilize Broken Bones, along with minor first aid emergencies. It also contains food and water supplies, that are good for 10 persons for 3 days and have a shelf life of 5 years.
1 Office Survival Kit is recommended for each office workspace with 10 persons.
A major earthquake can happen any time of the day, whether you are at home, work, or while traveling. We highly recommend a Family Disaster Survival Kit for home and a Car Survival Kit for your car.
Description
An Office disaster survival kit is a must in the business workplace in the event of a disaster or emergency. At work, your employees need quick access to survival supplies. You must be able to care for the injured immediately. You must be able to manage Breathing, control severe Bleeding, treat Shock. These three things must be done immediately to guarantee survival for the victims. To help you accomplish those tasks we have included a CPR barrier mask that has a one-way valve for your safety. Several trauma dressings to control bleeding and thermal blankets to treat Shock. Following first aid treatment, you must control fires and shut down utilities to prevent further damage.
So we have also included an American made "On Duty" 4 in one tool that will shutoff the gas meter and water meter and serves as a digging and prying tool for jammed doors following an earthquake. The Dynamo Radio/Flashlight included does not require batteries, so you won't be without valuable information following the disaster. Light Sticks that glow for 12 hours for search and rescue or just comfort light, with no risk of sparks or fires. Again,  American made means a 5-year shelf life and high-quality light.
You'll find American made 5-year long term food bars that are non-thirst provoking and sterile water pouches for drinking and medical care.
We include high-quality professional grade first aid supplies, pry bar and gas shutoff tool.
Office Disaster Survival Kit Contents: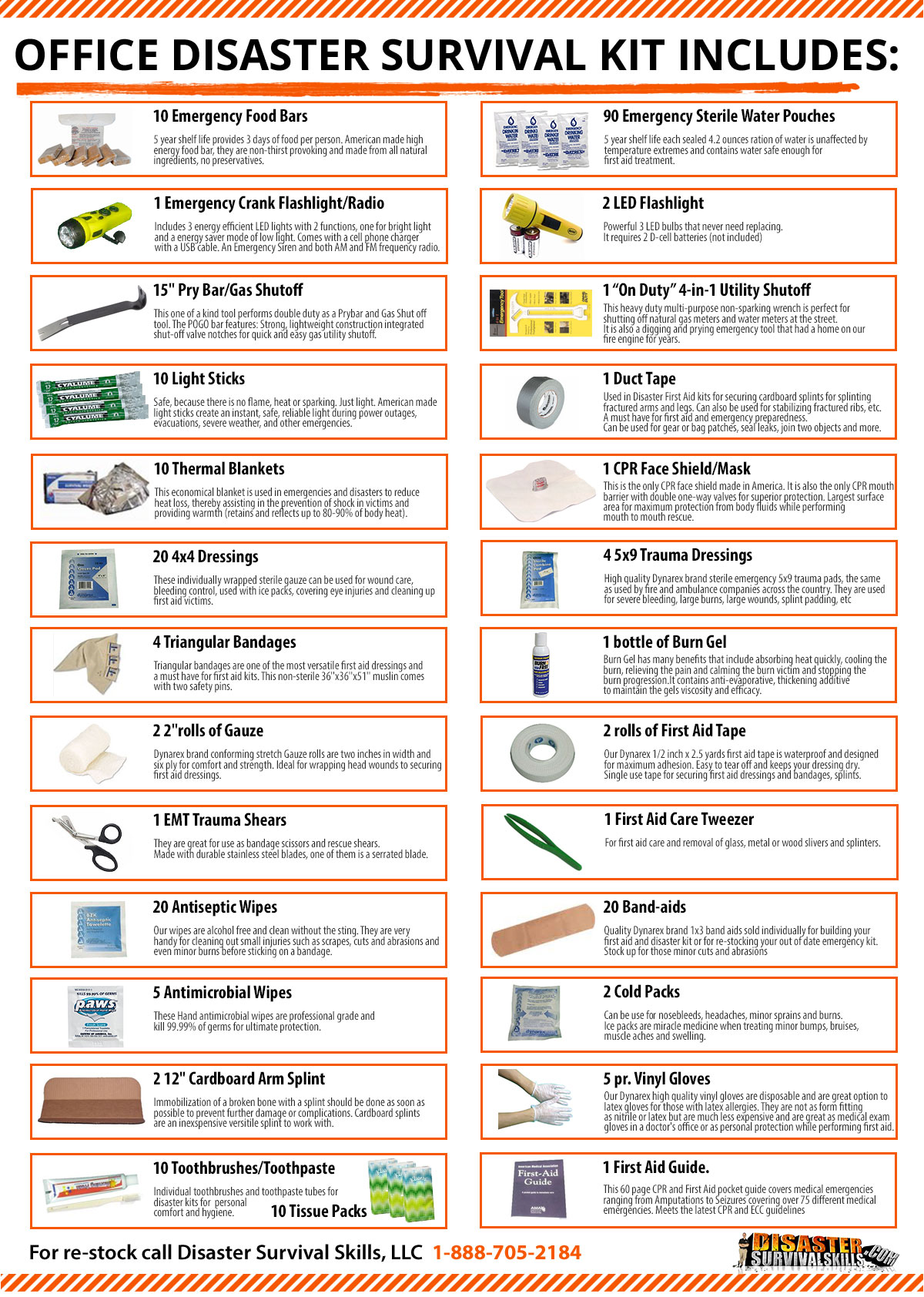 10 Food bars
90 Water pouches
10 Light sticks
2 Flashlights
1 On Duty 4-n-1 tool
1 Pry bar
1 roll Duct tape
10 Survival blankets
10 Toothbrushes/paste
10 Tissue packs
Emergency crank radio/flashlight
1 CPR face shield/mask
4 Trauma dressings
20 4×4 Gauze dressings
2 rolls of gauze
4 Triangular dressings
2 First aid tapes
20 Band-aids
2 Arm splints
2 Cold packs
1 bottle Burn gel
1 Paramedic scissors
1 Tweezers
20 Antiseptic wipes
5 Antimicrobial wipes
5 pr. Vinyl gloves
1 First aid guide
Additional information