Disaster First Aid Kit (Schools | Businesses)
$139.95
A realistic and practical solution for mass-casualty disasters.
This Disaster First Aid Kit is professionally designed by Captain Wayne Bennett (Ret.). After analyzing the expected injuries in schools and large business sites, we were able to put together a compact first aid kit that allows your medical team to treat minor and severe injuries on a mass-casualty scale.
1 Disaster First Aid Kit is recommended for every 150 persons at your site.
We highly recommend that you also get an Incident Command Post Kit with Triage Package and Stretchers, especially if you have more than 150 persons in your site/school.
For exact computation of recommended supplies for your site/school, use our free Disaster Calculator for Schools to generate your customized report.
Description
This Disaster First Aid Kit for schools classrooms or the business office or CERT teams is packed with almost 500 bulk emergency first aid supplies appropriate to your employees level of training and safe for the victims. We had schools and businesses and CERT teams in mind when we designed our Disaster First Aid Kit. Click on the link to get a copy of our Disaster First Aid Supply Guidelines worksheet.
As a professional firefighter treating serious injuries at mass casualty incidents, I have discovered what you really need in a disaster first aid bag is life saving supplies, not band-aids. Your Disaster First Aid Kit should be able to stabilize shock, burns, fractures and control serious bleeding and wounds. There is no fluff in this first aid kit. Practical disaster supplies from bulk trauma dressings, arm and leg splints, burn gel, sterile water to paramedic scissors, items that will be necessary with real injuries.
When working in a mass casualty area you will need a lot of bulk dressings to quickly and efficiently treat a large number of victims created by an disaster such as an Earthquake. Be careful when shopping for Disaster First Aid Kits. Most kits have the wrong items or supplies that are out of protocol. Do not use Alcohol or Hydrogen Peroxide as it damages tissue, capillaries and promotes the growth of bacteria. Butterfly bandages can close in septic infections. Ammonia Inhalants can cause breathing problems.
TIP! Remember, Triage is the front door to the Disaster First Aid areas. Set-up separate treatment (triage tarps) areas for the Immediate and Delayed patients. Leave enough room between the two areas or tarps to layout your first aid supplies, providing access to the medical supplies from both treatment areas.
Its' portability allows you to set up a disaster first aid area quickly and care for up to 150 persons. Compare our quality and quantity and price with the competition. We include state of the art burn gel, EMT trauma shears, trauma dressings, cold packs, emergency thermal blankets, and more. Looking for something more compact, check out our "Real" First Aid Kit.
Key Features
Designed by firefighter/EMT
Compact and portable
High quality
Practical
Economical
Disaster First Aid Kit Contents: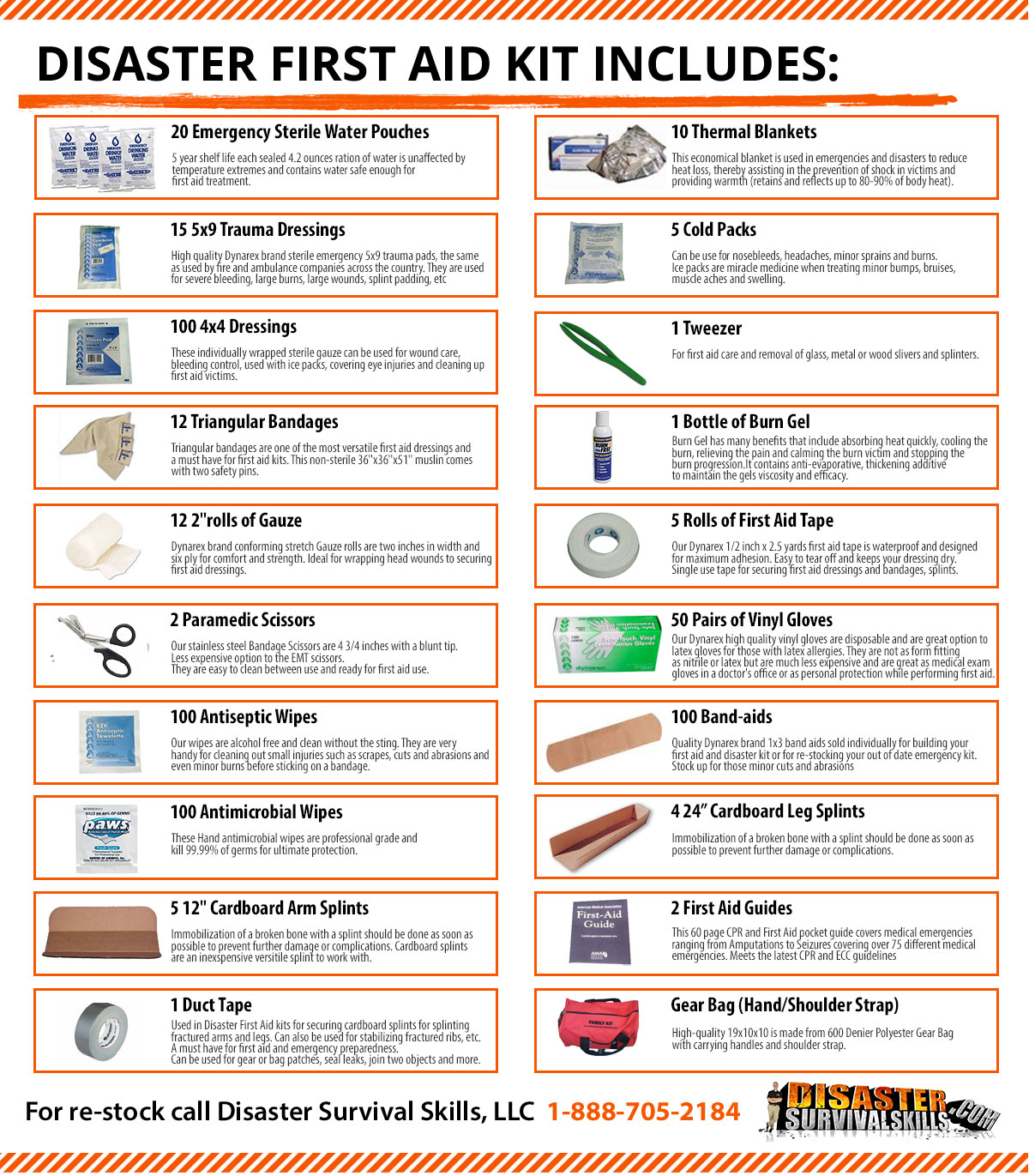 20"shoulder bag
15 trauma dressings
100 4×4 gauze pads
12 triangular dressings
12 rolls of gauze
4 leg splints
5 arm splints
1 bottle burn gel
5 cold packs
20 sterile water packs
5 rolls of first aid tape
1 roll of duct tape
10 emergency thermal blankets
2 paramedic scissors
2 tweezers
1 box of 100 vinyl gloves
100 antiseptic wipes
100 antimicrobial wipes
100 band-aids
2 first aid guides.
Additional information